FRECHE FRÜCHTE
Last May I was lucky enough to be among the residents of Bijeljina's first Bijeljinale. While I was still working out where the bakery was, co-resident
Paulina
Semkowicz had already covered squaremetres of tablecloth in paint. So I joined her in her venture and, using clay from the local brick factory, produced some fruity tablecloth tin weights to secure Paulina's work from any winds that might make it into Gradska galerija Centra za kulturu "Semberija"
.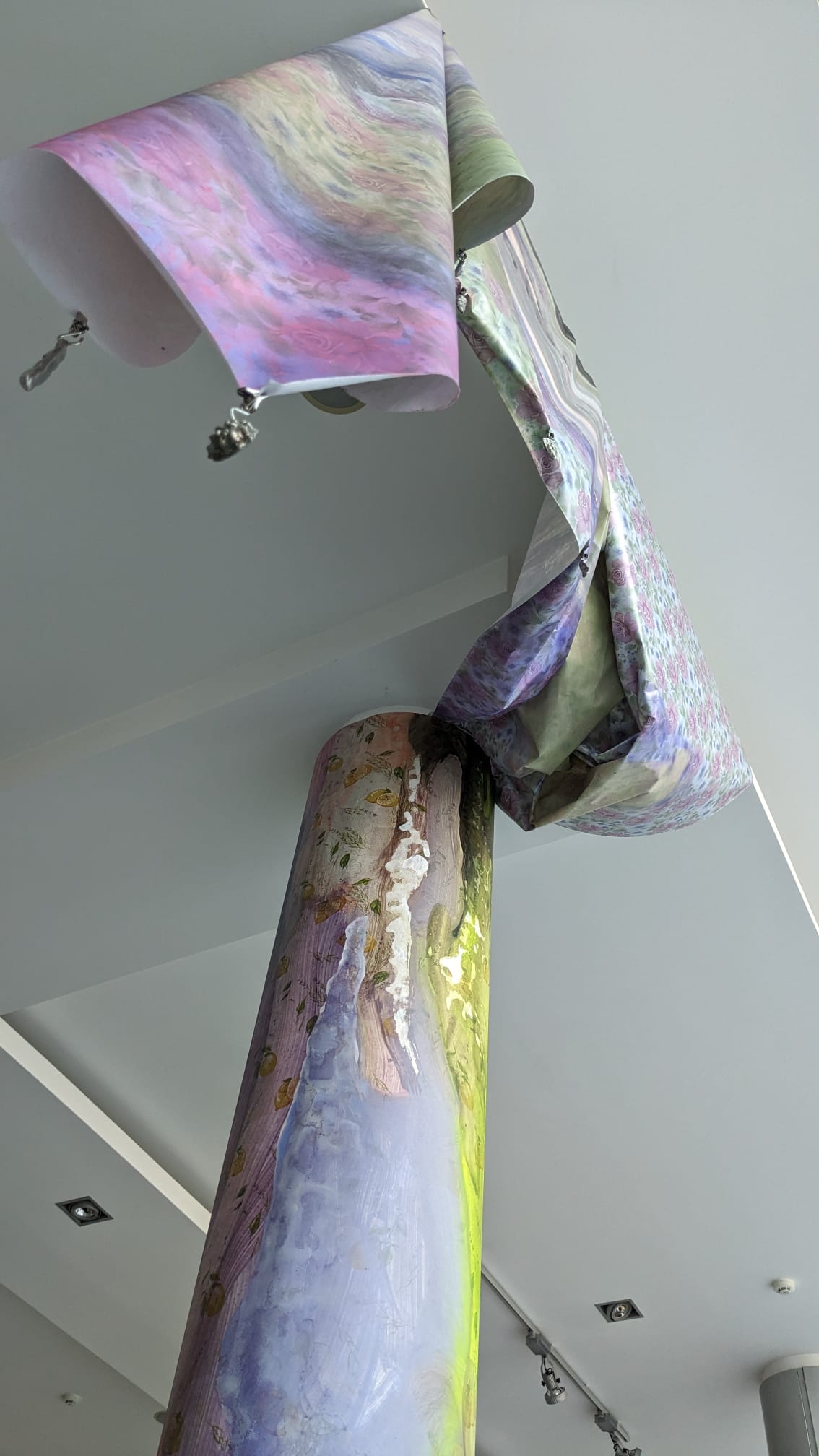 Bijeljinale, Gradska galerija Centra za kulturu "Semberija"
open throughout summer 2023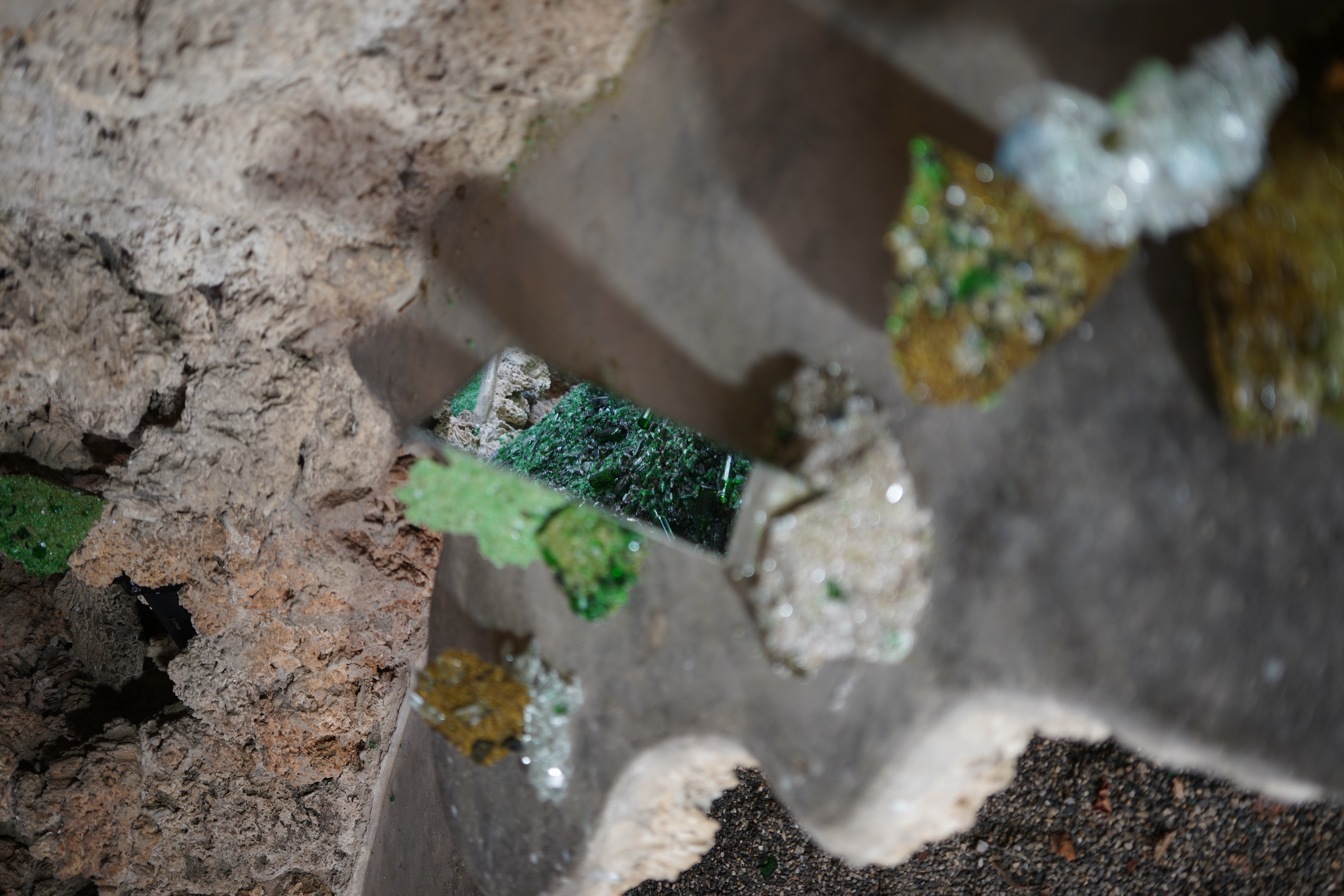 GLASS MOUNTAIN
See-through but unsurmountable, it is a place of transformation in many tales and legends. Johanna Pichlbauer's glass mountain has been moved to the Grotto of Schloss Hollenegg from the landscape of shards glittering white, green and brown in the backyard of the Stoelzle Oberglas glass factory. This mountain of shards is also very much a place of transformation: glass becomes glass becomes glass. In between, it waits, fragmented and sorted by color, for its next form. The designer dedicates her installation to this intermediate state and its humble protagonist: the shard. In an antique but also newly restored understanding of our relationship with our planet, appreciating the object also means appreciating the broken object. And so it is with great attention to detail that Johanna Pichlbauer has put together what was broken and used poetic means to unfold abstract value chains in global systems. The project was made possible by Stölzle Oberglas, producer of all sorts of glass for everyday use and highly committed to climate action and recycling.
Ashes and Sand
6.5.2023 - 28.5.2023 im Schloss Hollenegg, Stmk, geöffnet immer am Wochenende.

Mit Arbeiten von Antrei Hartikainen, Christian & Jade, Germans Ermics, Tadeas Podracky, Tamara Barrage, Aleksandra Fixl + Sidonie Devienne, Alissa Volchkova, Anna Jozova, Barry Llewellyn, Clara Schweers, Hanna-Kaisa Korolainen, Johanna Pichlbauer, Julia Körner, Katie Stout, Laura Affinito, Lenn Gerlach, Luca Gruber, Lucia Massari, mischer'traxler, Natalie Weinberger, Nives Widauer, Philipp Weber, Sarah Roseman, Seungjoon Song, Stories of Italy, Studio Groovido and Ursula Futura.
DIE WAND
Getrennt durch den Willen ihrer strengen Väter finden Pyramus und Thisbe aus der antiken Sage, die traurige Vorlage war für etwa The Most Excellent and Lamentable Tragedy of Romeo and Juliet, einen feinen Riss in der Wand, die ihrer beiden Wohnhäuser trennt, und nutzen ihn, um gehauchte Liebesbotschaften auszutauschen.

Wie die Sagenheldinnen seid ihr getrennt durch eine Wand. Ihr könnt euch nicht sehen, seid aber entschlossen, das Hindernis zu überwinden. Durch Klopfzeichen und Flüstern einigt ihr euch auf eine Stelle, die zum Ort der geheimen Intervention werden soll. Dann nehmt ihr jede/r den bereitliegenden Meißel und beginnt, euren Worten und Blicken Durchgang zu verschaffen. Werden die Werkzeuge einander begegnen? Werdet ihr zueinanderfinden oder für immer getrennt bleiben?

Ein Beitrag zur GRUPPENSCHAU "DATE-DING", Design in Gesellschaft, mit
Lino Gasparitsch
Dauer: geöffnet bis Ende Juli, upon request
Engerthstraße 124
Foto: Lino Gasparitsch
"Oft, wenn sie standen davor, hier Thisbe, Pyramus drüben,
Und jedwedes den Hauch auffing von des anderen Munde,
Sprachen sie: 'Neidische Wand, was bist du der Liebenden Hemmnis?
Wie viel hätt' es bedurft, dass ganz du uns ließest vereint sein
Oder, wenn dieses zuviel, uns Raum doch gäbest zum Küssen!
Doch nicht weigern wir Dank. Dir sind wir mit Freuden erkenntlich,
Dass zu befreundetem Ohr Durchgang du gewährest den Worten."

Ovid, Metamorphosen


MOUNTED CERAMIC
As early as the 16th and 17th centuries, there was a practice of setting Asian porcelain objects in gold bronze or silver to make them more attractive to Western collectors. Vases became candleholders, were given lids or decorative handles. An act of ignorance or successful mediation between East and West? In the context of my research of Heinrich von Liechtenstein's world travels, I took up the tradition and brought old vases from Schloss Hollenegg's Rumpelkammer to life with new functions, materials and accessories. The result is a collection of
contemporary mounted porcelain
.
(c) LippZahnschirm

***16.–25.9.2022
, 11–20 Uhr
Festivalzentrale im GEWÖLBE6., Rahlgasse 8 (Rahlstiege)
(c) Kollektiv Fischka/Philipp Podesser
W111.5.3. Lazy man asked direction only points with his foot.



EXHIBITION
SOUTH POINTING FISH
A castle is a beautiful habitat for objects of all sorts: some are mundane and for everyday use, others are trophies, many have slept in dust for decades, a few are used seasonally. Many objects have lost their purpose, displaced in time but also in space. South Pointing Fish is a playful selection of found objects collected in the many corners of the castle and brought together in an imaginative discourse.

(c) LippZahnschirm
SCHLOSS HOLLENEGG 2022


OBJECT DESIGN
Use the magnetic needle to lead your school of fish towards the south –or let them swim towards an island of your yearning...
This silver compass was designed by Johanna Pichlbauer and produced by the famous silver smith Jarosinski & Gaugoin as a present to all supporters of Schloss Hollenegg.

It pays tribute to the first compasses, which are documented to have been invented 2000 years ago during the Han dynasty in China. Naturally magnetized stone of iron was shaped into a fish floating in a bowl of water, aligning itself to the south.

(c) Marlene Mautner